RW-4950 Pond and Waterfall Pump 4,950 gph @ 5' with Optional Auto ON/OFF Float Switch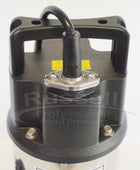 RW-4950 Pond and Waterfall Pump 4,950 gph @ 5' with Optional Auto ON/OFF Float Switch
RW-4950 Pond and Waterfall Pump
High-Volume Direct Drive
Submersible Pump

Removable fish guard for solids handling capability
4,950 gph @ 5′ head
5,160 max gph
Dimensions: Length 9.25", Width 6.1", Height 13.9"
16.46 lbs.
Lightweight and energy efficient
2″ female threaded outlet
1/2 horsepower
31′ max head
120 volt, 6.0 amps
720 input watts
Approved: CSA/C-US
Heavy-duty motor designed for continuous duty operation
Non corrosive construction
304 stainless steel and polyamide fiber reinforced resin for corrosion resistance
Air filled motor for lower average operating temperature
Seamless stainless steel stator casing
Seal extender for cooling the seal face more effectively
Double Silicone Carbide mechanical seals SIC/CE/CA
Thermal overload protection
Fiber reinforced impeller
Leak resistant cable entry
Anti-vibration bearing technology
Stainless steel motor housing for superior heat dissipation
Stainless steel shaft
Fiber reinforced vortex impeller
Reinforced resin volute
Stainless steel hardware
20′ heavy duty power cord with grounded plug
1 year warranty
Use with CVA-200 Custom Cam Lock Check Valve Assembly for HydroClean Pond Skimmers and HydroChamber Pump Vault
Optional Auto ON/OFF Float prolongs pump life by preventing low water operation

SH-4950 Pond Pump Flow Rate GPH @ Head

| | | | | | |
| --- | --- | --- | --- | --- | --- |
| RW-4950 | 0' | 5' | 10' | 15' | 20' |
| GPH | 5,160 | 4,950 | 4,350 | 3,570 | 2,700 |





RW-4950 Pond Pump
Reliable and dependable 4,950 gph
Pond and Waterfall Pump

Reliable and durable 4,950 gph @ 5' pump for ponds and pondless waterfalls. Heavy duty continuous duty operation. The RW-4950 pond pump is constructed of stainless steel and corrosion resistant fiber reinforced resin. Quiet operation and large water flow makes the RW-4950 a great choice for pondless waterfalls and all types of ponds.

Electrical

Pump must be protected by a ground fault circuit interrupter (GFCI).
Pump must be plugged into a standard, properly grounded, three pronged outlet.  Pump MUST

NOT

BE HARDWIRED.
Do not cut or alter the electrical cable. 
Never move or handle the pump by pulling on the electrical cable.  Make sure the electrical cable does not become excessively bent or twisted, does not rub against a structure in a way that might damage it, and does not come in contact with heated surfaces.  
Upon receipt of pump - examine the cable for damage from shipping.  If damaged, contact us immediately for a replacement.  DO NOT INSTALL a pump with a damaged electrical cable!

Cutting or altering electrical cable in any way VOIDS the warranty.  Installing a pump

 with a damaged cable VOIDS the warranty.

Operation

Pay careful attention to the water level while the pump is operating.  Dry operation may cause the pump to malfunction.  Pump must always operate while fully submersed.  Pump failure due to dry operation VOIDS the warranty. 

RW-4950 Submersible Pond Pump Benefits

The RW-4950 submersible pump is a reliable and dependable submersible pump. Submersible pond pumps must be rated for continuous duty operation to be suitable for ponds and waterfalls. The RW-4950 submersible pump is rated for continuous duty operation.

The RW Series submersible pond pumps are reliable submersible pumps for ponds and waterfalls. Each RW submersible pump is designed and built to be truly continuous operators. This provides you with the confidence to operate your pond and waterfall 24/7/365. The SH Series pond pumps are constructed of Stainless Steel and corrosion resistant polyamide Fiber Reinforced Resin.

RW-4950 Submersible Pump
Makes Beautiful Waterfalls

The RW-4950 submersible pond pump creates beautiful waterfalls up to 36″ wide over natural stone. At 4,950 gallons per hour, the RW-4950 submersible pump is perfect for backyard waterfalls and streams. With 31′ of maximum head pressure, feel free to build tall waterfalls and/or long streams. This pump has the power to get the job done. Reliability and dependability is in the heart of this pump.

The RW-4950 submersible pump fits inside most pond skimmers, but is ideally suited for the Piper HydroClean™ Pond Skimmer.

The RW-4950 submersible waterfall pump fits inside most pondless pump vaults but is ideally suited for the HydroChamber™ as part of an Ultimate Pondless System.

Use a RW-4950 submersible pump as a replacement for failed Aquascape, Little Giant, Savio, Easy Pro, Tsurumi, Becket, Cal Pump, and many other brands of submersible pumps.