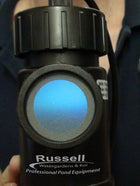 11 Watt Hydro-UV™

11 Watts, 120 Volts, 60 Hz
Dimensions: 13″ tall x 3″ wide
Recommended for up to 900 gallon ponds or water tanks
Recommended max flow rate of 300 gph (3 hour turn over)
Modular design for "daisy-chaining" for unlimited water volume clarifying
Compact design for easy installation and bulb replacement
Three gasketed ports
One inlet, one outlet, and one bulb viewing port
Heavy duty ballast
Adaptors included for tubing from 3/4″ to 1½"
Weather resistant plastic UV and ballast housing
Salted water compatible
6′ heavy duty cord from plug to ballast
10′ heavy duty cord from ballast to UV
1 year warranty* 




For 900 gallons @ 300 gph
Keep your pond water clean and clear all year long

The modular Hydro-UV™ body with three connection points allow you to customize just the right number of UV's for your total pond volume and flow rate of your pump. Our 11-watt UV clarifiers can be "daisy-chained" together to give you the maximum clarifying power possible. Each 11-watt UV clarifier comes with a viewing port so you can easily check the status of the UV bulb inside.

Our 11 watt UV clarifier is the ideal choice for small ponds up to 900 gallons or fish tanks. This 11 watt UV clarifier will keep your small pond or fish tank clear and green free. 

For best performance, replace bulbs annually.  

 

*Bulb not included in warranty.  Warranty is void if electrical cords or plug is cut or altered in any way. Inspect electrical cords for shipping damage prior to installation. If damaged during shipping, do not install the UV. Contact Russell Watergardens & Koi immediately for a replacement.